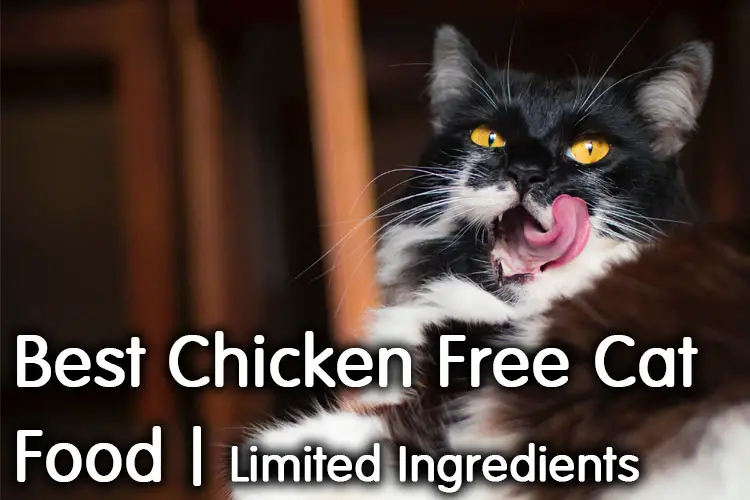 If you are facing a problem with cat food allergy with chicken, then you probably wondering to find the best chicken free cat food for your feline friend with limited ingredients. If so, just go through our thorough selection to enhance your knowledge and narrow down a product that will save your cat's health.
---
When taking care of your cat, their food plays a significant role in healthy living. Therefore, selecting a proper cat food is vital for a healthy cat. Sometimes, your cat can require a specific type of cat food due to several reasons such as food allergies, reduced appetite, protein needs or food sensitivities.
Chicken is the main ingredient in most cat foods. However, there are several cases that your cat requires a chicken free cat food. In this case, I'll help you to find the best chicken free cat food in the market.
Further, I'll explain some detailed information on selecting a chicken free cat food which does not state directly chicken as an ingredient of their product.
Before going into the detailed selections, here is the list of cat foods that do not contain chicken as any part of their product. The list is divided into two main components to satisfy different needs. Best dry cat food without chicken and best wet cat food without chicken.
Best chicken free cat food – Dry
1. Instinct Limited Ingredient Diet
2. Wellness Core Natural Grain Free
3. ZIWI Peak Air-Dried Cat Food Recipe
Best chicken free cat food – Wet
1. Instinct Original Grain Free Recipe
2. Purina Pro Plan Entrees in Gravy
3. Weruva B.F.F. OMG – Best Feline Friend
4. Wellness Core 95% Natural Grain Free
What are the best cat food alternatives that replaced chicken?
As a cat food ingredient, chicken plays a significant role in producing lots of protein. Therefore, replacing chicken should be done by proper protein-rich alternatives. Eggs, beef, turkey, lamb, rabbit, trout and salmon related meat types are much famous under this category.
Eggs are filled with protein and amino acids, which gives an ample amount of calories. There are lots of ways to produce egg-related food items for your cat. One of the most popular method is DIY type egg food recipes. Anyway, veterinarian advice is to give eggs once on occasion or as a treat. It may not be suitable for a daily food item.
Beef or else famously called red meat is another core ingredient that produces protein and 14 more essential nutrients. The nutrients profile for beef is quite big and a proven alternative for chicken which actually benefits more than chicken.
Turkey a lean meat, which is similar to chicken. But contain different nutrition. Turkey is filled with protein and taurine. Taurine is an essential chemical compound that cats could not generate within its body.
Lamb is another type of meat for high protein requirements. Total calorie content seems to be high in lamb meat. Other than the protein, lamb meat rich in additional nutrition such as vitamins, antioxidants (glutathione), taurine, and minerals.
Rabbit meat is one of the popular meat types in cat food. Some of the domestic and wild cats do hunt rabbits as foods. Therefore, rabbit meat means not a new food item for cats.
Trout and salmon are the best fish meat available in the market. There are different from other red meats and able to produce nutrition, which is really hard to full fill from other food ingredients. Further, fish-based meat sources provide a rich source of omega-3 fatty acids, proteins and minerals.
Best chicken free dry cat food
Here, I have separated my selection into two main categories, Dry and wet chicken free cat food. The below section has three products, which will be useful as an alternative for chicken. The first one is the top selection.
Instinct Limited Ingredient Diet Grain Free Recipe Natural Cat Food & Toppers
Ingredients: Available in rabbit, salmon, and turkey
This product comes in three main selections. Either rabbit, salmon, or turkey as the main ingredient. Therefore, you can select a product with different tastes for your cat.
The most important point in this product is, they created it especially for a cat which has food allergies for grain, dairy, eggs, chicken, beef, fish, sweet potato, potato, chickpeas, corn, wheat, soy, artificial colors or preservatives.
This cat food is claimed to produce by using raw ingredients to protect nutrition and taste, which is a perfect approach to give a healthy diet. One more thing, this is an excellent choice for your kittens too.
If you are interested in checking further details on this, here is the link to Amazon. There are a lot of positive remarks on this one in Amazon. Read them. They are really helpful in selecting a product for your loving cat.
Wellness Core Natural Grain Free Dry Cat Food Turkey & Duck
Ingredients: Available in Turkey and duck
Another excellent cat food product with antioxidants, vitamins and probiotics. This cat food is made from turkey and duck meat. Formulated to produce protein enrich meal without chicken.
The manufacturers stated that this food item is most suitable for adult cats. If you have kittens or pregnant cats, then they have specially designed chicken free cat food items to select.
Visit their Amazon product page through this link.
ZIWI Peak Air-Dried Cat Food Recipe
Ingredients: Available in Beef, Lamb, Mackerel & Lamb and Venison
ZIWI produce their cat foods in a variety of selection. You can choose several meat types and each product does contain only the selected meat. Therefore, there are safe for your cat which has chicken food sensitivities.
ZIWI has a unique manufacturing technique to store raw meat nutritions safely. They use air-dry method. It is considered as a successful method to carefully dry meat without damaging its core nutrition profile.
Check out the Amazon page for their detailed description. They have brief information about their techniques in it.
Best chicken free wet cat food
This section is for best chicken free wet cat food. The first selection is my top choice under this category.
Since wet cat food is famous among cats, it seems there are a lot of options available in this category, even without the chicken. So I have added best four items to explore.
Instinct Original Grain Free Recipe Natural Wet Canned Cat Food
Ingredients: Available in Beef, Duck, Lamb, Rabbit, Salmon, and Venison
By far, this is the best-wet cat food that does not contain chicken. Moreover, filled with high-grade nutrition profile.
Instinct cat food products are usually formulated for cats with food sensitivities. Therefore, they do not use any other ingredient meats other than the mention meat types.
This chicken free cat food is a grain-free one. It is suitable for all types of cats including kittens. The high protein nutrition profile is best for making your cat fat and fluffy.
You can check out the product price and other related info from this Amazon link.
Purina Pro Plan Entrees in Gravy Adult Canned Wet Cat Food
Ingredients: Available in Beef, Duck, Lamb, Rabbit, Salmon and Vegetable mix
A different type yet filled with high nutrition profile cat food item. There are a lot of variations available on the product page depending on the ingredient type. The chicken free selections were made from mixing above mentioned ingredients.
You can select any product which your cat would like to have. Personally, I think these different variations could give a different taste for your cat other than providing the same taste product over time.
Other than protein availability, these food cans offer 25 essential vitamins and minerals including taurine and amino acid.
Here is the link for Purina Pro Plan wet cat food without chicken
Weruva B.F.F. OMG – Best Feline Friend Oh My Gravy
Ingredients: Available in Tuna, Beef, Duck, Lamb and Turkey
This is a minimally processed raw type of food item without any harmful contents such as grain, gluten, GMOs, MSGs and other artificial flavors or preservatives.
It can be considered as a balanced diet for adult cats with vitamins, minerals and antioxidants. The company stated that the moisture levels were maintained at a proper level to promote a healthy urinary tract.
This is quite famous in the market and has numerous positive feedback on it. Check the prices of this product here.
Wellness Core 95% Natural Grain Free Wet Canned Cat Food
Ingredients: Available in Turkey
As the name suggests, this product contains 95% of turkey as their main ingredient. The remaining 5% is for other non-harmful binders and fiber sources.
However, you need to pay attention to select the only turkey-based cat food item on their product page. They have several other selections which are using chicken too.
This item seems to be most liked by elderly cats. The smell and taste may have some effect on this.
Check out the prices here.
How to select a cat food without chicken?
Maybe you could not be able to purchase our selected cat food items due to several reasons. We do understand that. In that kind of case, you would like to know the process that we used to select the best cat food without any chicken part in it.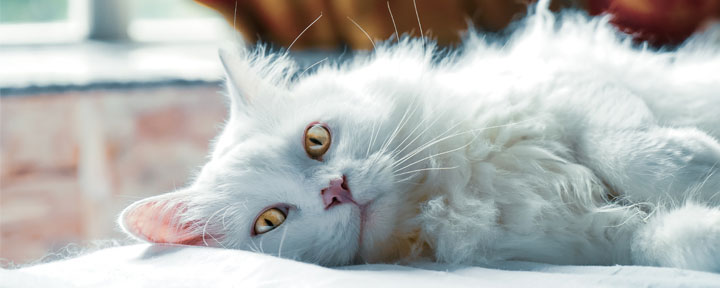 Selecting a cat food without chicken is not simple as just checking chicken in the ingredient part of the label. Sometimes, manufacturers do not include chicken as an ingredient (directly). Therefore, we may need to pay attention to several indications in the label to understand the ingredient structure properly.
Words that give partial means – You may need to pay careful consideration or avoid these terms in cat food. These terms do not directly indicate the usage of chicken. "chicken by products", "chicken by product meal", "poultry by products", "poultry by product meal" are some of these terms used in many products.
Always trust a well-known brand – When it comes to health or safety, trust is matters. A quality or famous brand will only use its indicated ingredients to avoid unnecessary problems with its client base. We cannot trust the label ingredients stated in cheap cat food products. It is nearly impossible to determine the actual element in it by just checking the label and all we have is brand trust. So my advice is to go for a known brand.
How can I tell if my cat is allergic to chicken?
Chicken allergy most of the time related to the symptoms of the skin or gastrointestinal tract. A chicken allergy can be seen in any age group of cats including kittens.
If you suspect that your pet cat is allergic to chicken, then look for the following symptoms.
Nonstop scratching around the neck and face
A rash could be seen around the face and ears
There could be excessive licking than usual, especially around the paws, stomach or legs
Ears can turn into red color
Vomiting
Diarrhea

In this video, Dr. Amber Andersen, a veterinarian, explains the basics of food allergies in cats. Quite informative for any cat lover.
Typically, cats do not tend to show any symptoms until there are very ill. Therefore, it is crucial to take necessary actions as soon as you notice above mentioned symptoms in your cat.
Final Thoughts
Food allergies are a common problem many cat lovers face. Chicken allergy is one of them. In such cases, finding the best cat food without chicken (limited ingredients) is vital to safeguard your cat's health. To help that pursuit, we believe our guide will help you with additional knowledge.
References
---
Dinu Sri Madusanka
Hi, I'm a researcher who is currently pursuing a PhD degree in Nanotechnology. In my free time, I gives my contribution to Walk with Cat by writing, reviewing and analyzing information.